Management Structure
Olympus uses a matrix organizational structure that maximizes the use of corporate resources by interconnecting businesses and functions in a balanced and efficient manner.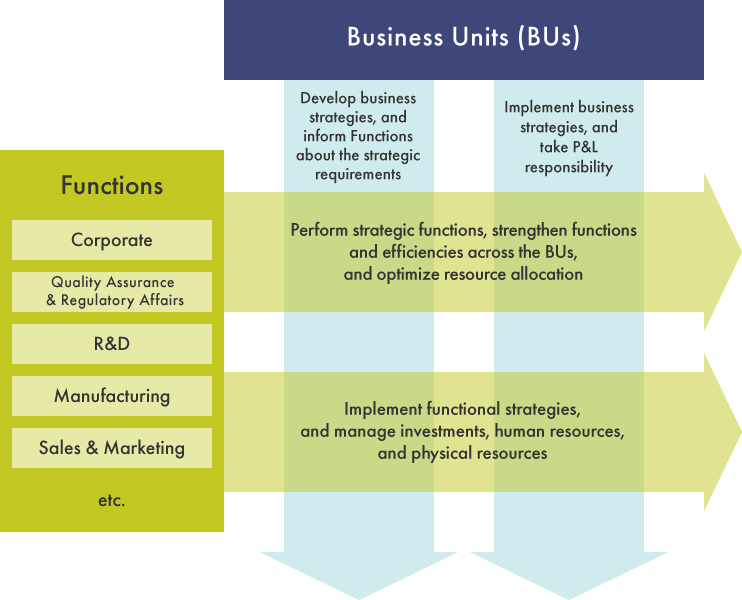 The first layer of the matrix has business units on the vertical axis and functional organizations on the horizontal axis.
Each business unit oversees its own strategies in accordance with group strategy, and the functional organizations provide support to implement these strategies.
The matrix helps to clarify and speed up the process of group resource allocation, enabling the company to maximize its potential.
Business Units
Medical Business
GI & R (gastrointestinal and respiratory) Business Unit
GS (general surgery) Business Unit
Uro/Gyn (urology/ gynecology) Business Unit
ENT (ear nose throat) Business Unit
Medical Service Business Unit
Scientific Solutions Business
Scientific Solutions Business Unit
Imaging Business
Functional Organizations
Chief Compliance Officer (CCO)
Medical Affairs Office
Government Affairs Office
Quality and Regulatory Group
Chief Financial Officer (CFO)
Chief Improvement Officer (CIO)
Chief Administrative Officer (CAO)
R&D Group
Manufacturing Group
Sales and Marketing Group